Volunteers in Corrections
By Terry Campbell, Professor, Purdue University Global
Published: 11/15/2021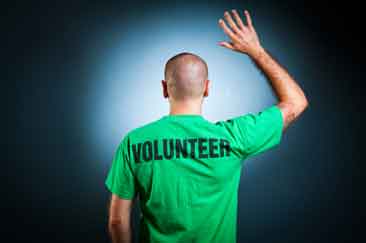 One of our topics for November 2021 is 'Volunteers in Corrections. Volunteers in corrections have proven themselves as a vital corrections component. Unfortunately, our volunteers sometimes do not know how important their work is and often receive little recognition. The volunteer is willing and committed to providing a service. Agencies track volunteer hours, and we soon recognize volunteers are necessary. Only imagine how our systems would operate with minimal or no volunteer services. Many of our readers have experienced this with the COVID initiatives and their impact on corrections.

Each state and the federal level experienced COVID. This affected not only the offenders but employees as well. Many of our programs in prisons, jails, probation, parole, and others were severely impacted by COVID. Now we see initiatives for mandatory testing, vaccinations, and the wearing of masks in some agencies.

Those interested in volunteering can contact their agency of interest, and quite often, this is available via the internet. Potential volunteers can access the internet and locate the duties and responsibilities, training, and on-the-job supervision. Now, the requirements will vary from state to state and the federal systems. If interested or know someone who may be interested, please have them visit the site. Something I feel is important, overall our volunteers and staff are professional. Occasionally, we see some who overstep the boundaries and are disciplined. In no way does this mean 'all volunteers and employees are bad.' Those working in corrections have a responsibility to assist and ensure all are performing their duties. We are all on the same team.

I have several questions for you to consider.
Does your agency utilize volunteers, and are you aware of these services?
Did you receive any training working with volunteers?
Do you know your agency's definition for 'volunteers?'

Next, I provided some of the various areas where volunteers are utilized. Again, this is not conclusive and will vary from agency to agency.
Services for youthful and adult offenders
Prisons, Jails, Probation, Parole
Veterans
Vocational Training
Faith and Religious Programs
Personal Responsibility
Academic Education and Library
Self-Betterment and Wellness Programs
Transition Skills
Office Helper
Mentors
Alcoholics Anonymous and Narcotics Anonymous
Jaycee Chapters
Salvation Army Correctional Services
Volunteers of America
other affiliations
We have a lot of people with experience in many areas. Some of these people are professionals, retired, committed to the volunteer cause. Personally, I feel we can increase the use of volunteers. Of course there are some variables involved we do not have control over.

Due to mask mandates in many states, we are experiencing turn-over in many fields. Unfortunately, COVID has led to many officers resigning, various impacts on the stress and mental health of staff and offenders. In addition, we have to look at the impact on safety and security concerns. These can never be jeopardized.

I strongly suggest we collaborate with agencies to identify what seems to be the best practices and future use of volunteers.

Thanks, and stay safe out there.
Terry

Terry Campbell is a criminal justice professor at Purdue University Global and has more than 20 years of experience in corrections and policing. He has served in various roles, including prison warden and parole administrator, for the Arkansas Department of Corrections. Terry may be reached at tcampbell@purdueglobal.edu.

Other articles by Campbell


---